Pinnacle Internal Medicine
LEAVE A REVIEW
1400 Kirk Rd. #210, Little Rock, AR, EE. UU.
5.0
3 comments
---
Physicians who care, a beautiful clinic environment, and a delivery system that works with my busy life. Win, win, win! Best primary care in Little Rock!.
Being new in town and running all over trying to get care with several chronic serious health issues, I finally found Dr. Ruby who is now in charge of my care and making sure I get to the right specialist. I feel very relieved to know someone is taking a personal interest and "has my back"!!
Dr. Hruby is excellent. As a physician myself I have a high standard of expectation and she met them all. Good clinical skills, Excellent training, Great bedside manner, carries through on every item of the treatment plan. She is very fast and responsive to inquires and when issues arise.

A Direct Care Practice in Little Rock.
At Pinnacle Internal Medicine our focus is on cultivating a close doctor-patient relationship. We strive to serve our patients by providing immediate access and availability to exceptional care. For a reasonable monthly fee, we offer a better healthcare experience that is more approachable, reliable, and convenient
What we offer:
Direct access to a physician through phone, text, and email
Same day and next day appointments
Minimal wait times and longer office visits
About Direct Care
Meet The Physicians of Pinnacle
DR.
SIOBAHN

HRUBY

(

SHA

-

VON

RUBY

)

Dr. Hruby was born in California and grew up in New Mexico. She attended College of St. Mary in Omaha, Nebraska where she graduated summa cum laude in 2003 with a triple major in Math, Biology, and Chemistry. She attended Creighton University School of Medicine graduating in 2007 and completing her Internal Medicine Residency in 2010. The following year, she served as Chief Resident of the Veterans Affairs primary care clinics, managing schedules and the education of both students and residents. Subsequently, she worked as an outpatient Internist at Boys Town National Research Hospital in Omaha, Nebraska. She then cared for patients at Jupiter Family Medicine Clinic near Grand Rapids, Michigan where her husband started his first practice. In the spring of 2015, Dr. Hruby and her family moved to Little Rock. Prior to being a founding physician at Pinnacle Internal Medicine, Dr. Hruby worked at the UAMS neighborhood clinic in Maumelle where she provided comprehensive primary care.

Dr. Hruby is board certified by the American Board of Internal Medicine, and she is a member of the American College of Physicians. Dr. Hruby's professional interests include health and wellness through diet and exercise, cancer prevention, and chronic disease management. She and her husband, Dr. Paul Hruby, have two daughters and are excited to call Arkansas their home. Her parents, Dr. Stephen Mason and Dr. Sharron Mason, both practice in Hot Springs. When she's not caring for patients or her children, you can find her curled up with a book or running her neighborhood trails.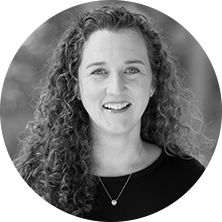 DR.
ANNA
KENDRICK
Dr. Kendrick was born and raised in Little Rock, Arkansas. She graduated magna cum laude from Texas A&M University where she received a degree in biology with a minor in business and participated in the honors program. She received her medical degree from UAMS and was a member of the Alpha Omega Alpha honors medical society. Dr. Kendrick completed her internal medicine training at University of Colorado Health Sciences Center in 2010 where her training focused on primary care and comprehensive women's health. After residency, she worked in private practice at Denver Internal Medicine Group. Prior to being a founding physician at Pinnacle Internal Medicine, Dr. Kendrick worked at the UAMS neighborhood clinic at Rahling Road where she served as medical director and provided comprehensive gynecologic and primary care.
Dr. Kendrick is board certified by the American Board of Internal Medicine. She is a member of the American College of Physicians and a certified menopause practitioner with the North American Menopause Society. Dr. Kendrick's professional interests include primary care, comprehensive healthcare for women and complementary/alternative medicine. She is thankful to be back in Arkansas with her family and to serve her home community. During her free time, she enjoys traveling with her husband and daughter, reading on her back porch, and learning new ways to stay healthy!
Pinnacle Internal Medicine Membership
Membership Fees
Flat fee – Monthly and discounted annual rate available.
One time registration fee
READ OUR REVIEWS
Covered Services
Annual wellness visit with routine yearly lab
Routine gynecologic exam and pap test
Chronic disease management
Acute visits and urgent care
Coordination of specialty care, emergency room and hospital care
Joint Injections, incision/drainage, and other office based procedures
CONTACT
PINNACLE
INTERNAL
MEDICINE
Contact us
Pinnacle Internal Medicine
1400 Kirk Road, Suite 210
Little Rock, AR 72223